Birmingham's haulage companies play a crucial role in the transportation of goods, serving as a vital link between suppliers, manufacturers and consumers. However, like any industry, the haulage sector is not without its challenges. This article aims to explore some of the key obstacles facing Birmingham's haulage companies today and how they can navigate the road ahead.
Evolving Regulatory Landscape:
One of the significant challenges for haulage companies in Birmingham is navigating the evolving regulatory landscape. Regulations surrounding road safety, emissions and working hours continue to change, requiring companies to adapt and comply with new standards. This poses a challenge in terms of ensuring drivers are trained and equipped with the knowledge to meet these evolving requirements, as well as investing in modernizing fleets to meet stricter emissions standards.
Driver Shortage: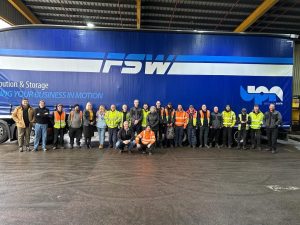 A shortage of skilled drivers is a pressing issue faced by many haulage companies in Birmingham. Factors contributing to this shortage include an aging workforce, difficulties in attracting younger generations to the profession and increased competition for qualified drivers. The shortage not only affects the operational capacity of haulage companies but also places upward pressure on wages, leading to increased costs for businesses. To address this challenge, haulage companies must focus on improving recruitment strategies, offering competitive compensation packages and providing ongoing training and career development opportunities. Collaborating with educational institutions and industry associations to promote the profession and attract new talent can also help mitigate the driver shortage.
Rising Fuel Costs:
Fluctuating fuel costs pose a significant challenge to Birmingham's haulage companies. Fuel prices are subject to geopolitical factors, global market dynamics and environmental regulations, making them volatile and unpredictable. As fuel costs rise, it directly impacts the bottom line of haulage companies, leading to increased operational expenses and reduced profitability. To mitigate the impact of rising fuel costs, haulage companies should explore fuel-efficient technologies, such as hybrid or electric vehicles and invest in driver training programs that emphasize fuel-efficient driving techniques. Implementing route optimization software can also help minimize fuel consumption by optimizing delivery routes and reducing unnecessary mileage.
Infrastructure and Congestion:
Birmingham's haulage companies face the challenge of navigating congested road networks and inadequate infrastructure. Traffic congestion not only results in delays and increased fuel consumption but also affects overall operational efficiency. As urban areas expand and e-commerce continues to grow, the strain on existing infrastructure becomes more pronounced. To address these challenges, haulage in Birmingham can collaborate with local authorities to advocate for infrastructure improvements, including expanded road capacity, optimized traffic management systems and the development of dedicated freight corridors. Additionally, utilizing real-time traffic data and intelligent routing software can help drivers avoid congested areas and minimize delays.
Technological Advancements:
The rapid pace of technological advancements presents both opportunities and challenges for haulage companies. While technologies such as telematics, GPS tracking and warehouse automation can enhance operational efficiency, their implementation and integration require significant investment and training. Haulage companies need to stay abreast of emerging technologies and evaluate their potential benefits. Strategic adoption of technologies that align with the company's objectives can streamline processes, improve communication and enhance customer service. However, it is essential to consider the upfront costs, implementation challenges and ongoing maintenance requirements associated with adopting new technologies.
Conclusion:
Birmingham's haulage companies face a multitude of challenges in today's ever-changing business landscape. From navigating evolving regulations to addressing the driver shortage, rising fuel costs, infrastructure constraints and technological advancements, these hurdles require careful planning and proactive measures. By embracing innovative strategies, investing in driver recruitment and training, adopting fuel-efficient technologies, advocating for improved infrastructure and selectively adopting technological advancements, Birmingham's haulage companies can overcome these challenges.